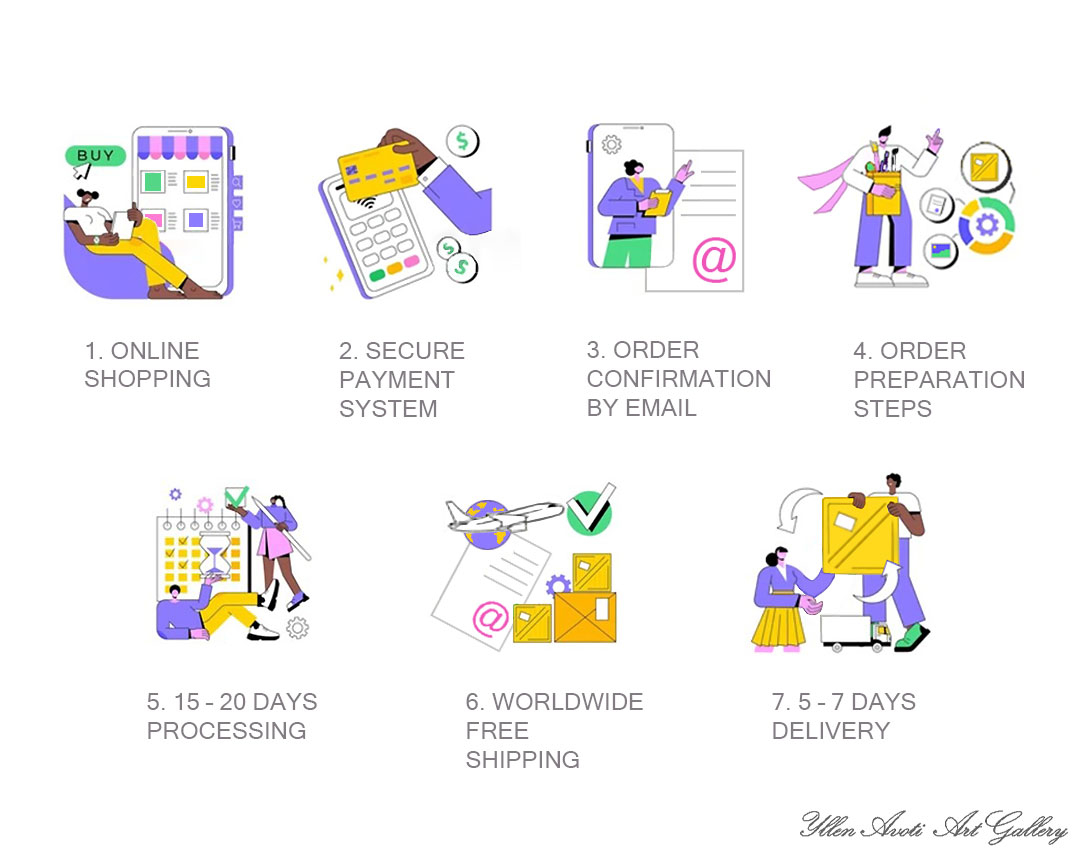 PAYMENT
Thanks to secure payment systems we use, every purchase is insured and made in confidence.
Yllen Avotí Gallery never requests your personal financial information. When paying through PayPal or Stripe direct credit card services, you will be redirected to their secure website to complete and finalize the payment, and then redirected back to the art gallery. PROCESS
We will keep in touch via email at every stage of the process and delivery. During the work process and before shipment, we will send you a photo of your art, so you can approve shipment or request any changes. I suggest using the Pantone palette to confirm the color shade when necessary.
"What you see is what you get, which instills confidence when buying art online." — our customer's feedback.
The painting will be created as close as possible to the original that you see in the photo, in the size you select. Although some features like brushstrokes or outlines may differ, the overall style and color will be precisely honored and created by the same artist. I do not have assistants for painting, all paintings are made by myself with my signature.
The process of creating an original artwork takes time. From preparing the custom canvas/frame, confirming export documents, and waiting for the canvas to dry completely. It usually takes about two weeks, but during holidays it can extend to three weeks or a month due to holiday closures. But trust us, it'll be worth the wait!



DELIVERY
We use an international carrier with a tracking number, which will be sent to you in the final email after your painting is shipped. I usually try to track all my paintings, so we will strive to keep you updated on its journey. Once your painting is dry and ready, it will be securely packaged in a box and bubble wrap to to ensure protection during transit — safe and sound all the way to your doorstep.



RETURNS & EXCHANGES

We gladly accept cancellations. But please request a cancellation within 12 hours of purchase.
If you are not completely satisfied, please send the painting back, without damage and with the original packaging, within 28 days and we will happily provide a full refund or alternatively, exchange the item accordingly.

Returns and exchange details:

- If you have an issue with your item, please CONTACT us within 3 days of delivery and we will be happy to discuss refund/exchange with you!
- If the painting would be lost before delivery we will refund a full cost.
- If the painting is damaged you will have a full refund, but please contact us and attach photos within 24h.